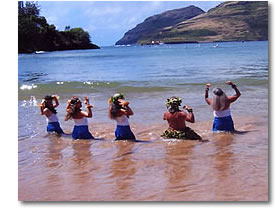 At the invitation of race organizers, halau members greeted competitors in the Kaua`i World Challenge Canoe Race on 7 May. The paddlers, in one-and two-seat outriggers, left Wailua early that morning, and finished at Hanapepe's Salt Pond beach in the afternoon. Teams rotated at Hanama`ulu, Kalapaki and Koloa; this allowed competitors to rest, and made the event more visible to land-based spectators by compelling the canoes to come ashore at several points along the course. Paddlers, among them our own Sharon and Ricky Balidoy, came from as close as Hanalei and as far away as Australia and Europe, making the event worthy of its name.
An international organization with Hawaiian roots, Ka `Imi was well-suited to represent the event's host culture.
Arrayed in Kane and Kanaloa colors, the halau perf-
ormed marine dances such as He Mele no Kane and Aloha e
ke kai o Kalalau. For many, the program's highlight was the
kahiko segment's grand finale, Kananaka danced in the cool
water of Kalapaki. The photos, taken by Jeanne George of
O`ahu, capture its refreshing spirit.
Thanks are due to all who made this performance
exciting and fun, especially Kawai`s students, the parents who
escorted them, and Fran Nestel's fellow-singers. Good job,
everyone!